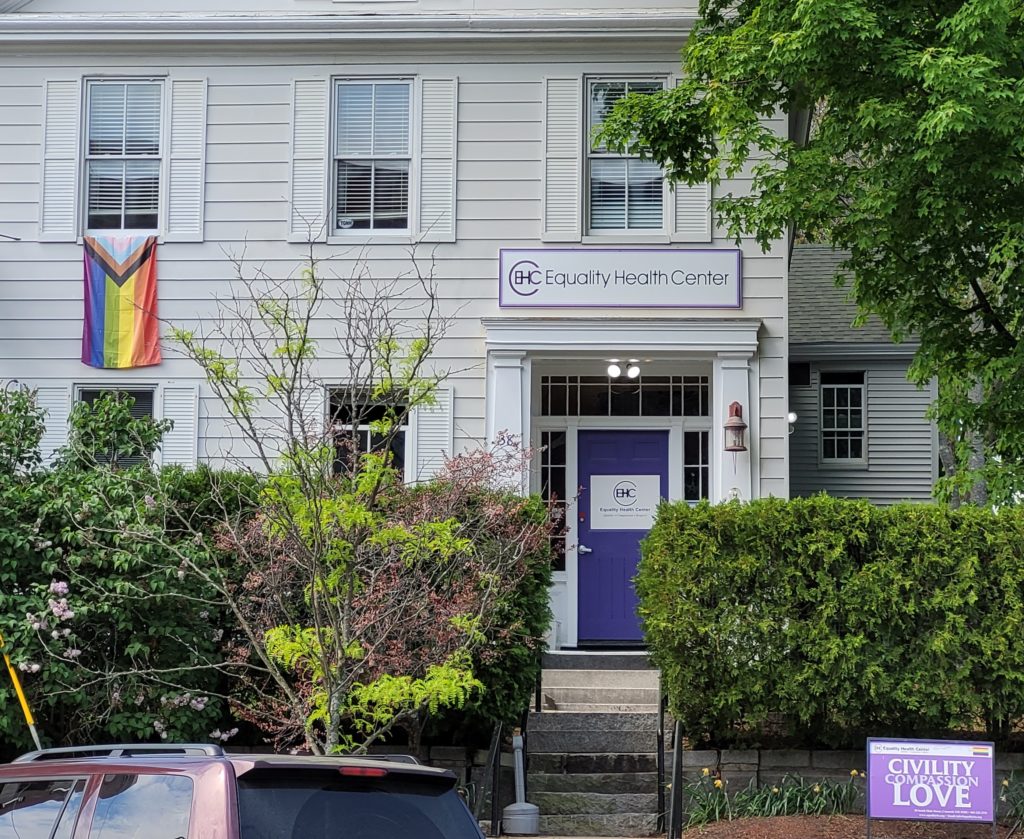 "Women have always been healers," wrote Barbara Ehrenreich and Deirdre English in Witches Midwives and Healers, first published as a booklet in 1973. By that time, the health care profession — or what we might already call the "health care industry" – was dominated by men, even in obstetrics and gynecology. The role of women as health workers was to be subservient to male authority. "We are told that our subservience is biologically ordained: women are inherently nurse-like and not doctor-like," they observed.
Women were expected to be subservient as patients, too. One big step in the transformation of women's health care had already come with the first publication of Our Bodies, Ourselves by the Boston Women's Health Collective in 1971. As the publication and the information it contained spread through the underground (selling at a price of 30¢), women throughout the country soaked up its spirit and began to assert control of their bodies and their health in new ways. New Hampshire was not left out.
With feminist ideas and ideals sweeping through the land, the 1973 legalization of women's right to have abortions presented an opportunity to meet a long-understood need. Within three months of the Roe v. Wade decision, women in Concord were laying the groundwork for a new venture: a nonprofit health clinic, run by and for women, based on feminist principles, to provide safe abortions and gynecological care.
Born as NH Women's Health Services, the center opened its doors at 38 South Main Street in Concord on October 19, 1974 with a vision to turn women's health care upside down. "The control here is with women, it is not with the doctors, which is different than in most medical facilities, or when you go to a private physician's office," said Joan Lovering, who served as the director. "Here you know there is a certain philosophy behind the health clinic, and it is that women can determine their own health care needs and concerns and provide for them. We hire only people who are willing to work with that concept."
The "certain philosophy" wasn't just about health care in a narrow sense. It was about establishing more of a peer-to-peer relationship between health care practitioners and the women who came for services. But it was also about the relationship among the staff, where feminism implied an emphasis on egalitarianism. For example, most of the staff had the title "health worker," and received training to handle most of the center's administrative and clinical functions, from serving as receptionists to prepping for procedures and providing counseling. As long-time employee Jane Munson reflected, "Job specialization, aside from the necessary specialization of the medical professionals, was considered to be contrary to feminist principles." Two years into operation, they ditched the traditional non-profit structure, re-organized as a staff-run collective, and changed the name to "New Hampshire Feminist Health Center."
It was never just a clinic.  The staff formed a speakers bureau to spread the news about abortion, birth control, and reproductive health.  They started a newsletter, Womenwise. They helped launch other projects, including the NH Women's Lobby, the NH chapter of the National Abortion Rights Action League, the NH Coalition Against Domestic and Sexual Violence, and Womankind Counseling.  With a demand for services higher than they could meet, the center spun off a sister clinic in Portsmouth in 1980, prompting the second name change to "Concord Feminist Health Center." 
The center also faced intense and sometimes violent opposition, including arson, vandalism, and the injection of obnoxious smelling chemicals into the building. Anti-abortion protests have been a regular occurrence, often coupled with verbal harassment of visitors and staff.
The center's egalitarian ideals ultimately presented another set of problems. Full-day staff meetings with decisions made by consensus, were exhausting, especially as the staff grew to 20 or more women. The election of 5 staff members to be "directors" with a higher level of responsibility for day-to-day management and a bit of additional pay imposed a level of hierarchy that infused the workplace with tension. When several directors quit after a particularly intense conflict in 1983, the remaining staff established even flatter systems of organization and went through several organizational and management models to reconcile their commitments to equality with what it took to provide stable employment and services.
In 2005 staff took the advice of their lawyer that it was time to return to a traditional nonprofit model, with a Board of Directors [that included 2 staff reps]. The following year they decided it was time to appoint an Executive Director.
With the outside world changing, too, and women's reproductive rights still under assault, nothing at the Center has been static. As it says on the organization's web page, "Over the 4 decades since we opened, our services expanded to include a wider range of reproductive health care. We also expanded the clients we serve to all people who need reproductive health care."
In 2016, the Center adopted its 4th name, Equality Health Center, "to better reflect the organization's broader healthcare commitment and give the public better insight to the recent expansion of services to men and the LGBTQ community." But the absence of the word "feminist" from the title does not mean a retreat from feminist principles. As Dalia Vindunas, the current Executive Director says, "we purposely chose the name 'Equality' because that is what feminism is all about – everyone being treated equally."
For more information, visit Equality Health Center.