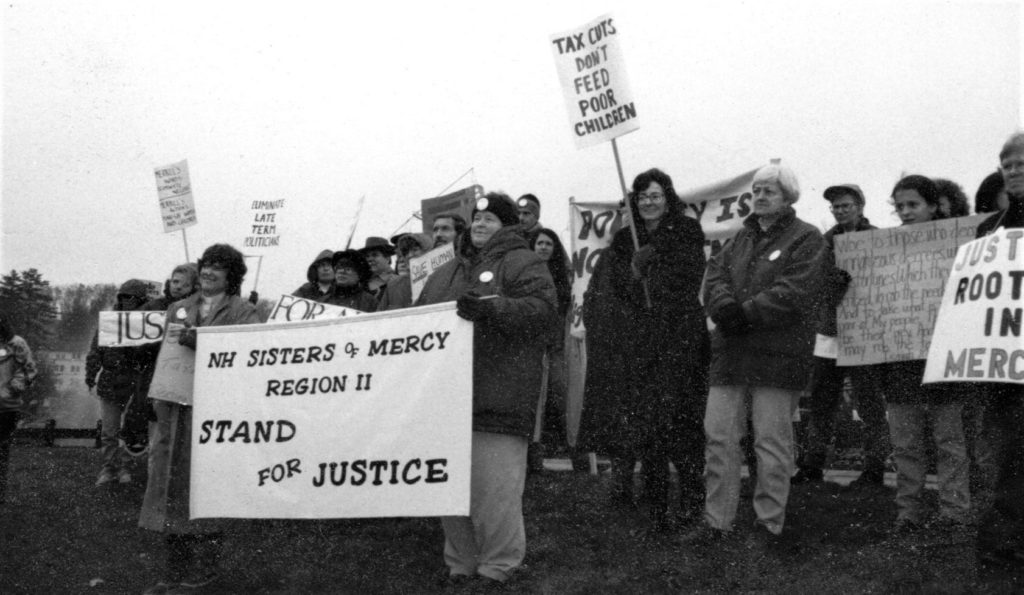 Given their origins among women who literally held classes "underground" to evade detection, the turn toward feminism, social activism, and internal democracy in the 1970s by the NH Sisters of Mercy should be no surprise.
Winds of reform were blowing through the Catholic Church in the 1960s, reaching even into the Diocese of Manchester, where priests like Phil Kenney supported civil rights and anti-war activists like Dan Berrigan paid visits. Sister Angie Whidden, a NH Sister of Mercy who later was instrumental in creation of the New Horizons soup kitchen, was among those who heeded the call of Martin Luther King, Jr. to travel to Selma in 1965 after the police assault on marchers at the Edmund Pettus Bridge and the murder of the Rev. James Reeb. (Msgr. Kenney was there, too.)
The rising tide of feminism led New Hampshire Mercies to give up the habits of subservience to men as they gave up their traditional dress.  Sister Madonna Moran was elected President as the order shifted from hierarchical to democratic governance in 1972.  Susan Colwell further cemented ties to feminist activism through the Manchester YWCA, while Sister Eleanor Mullaley, who had been fired from her post at the State Prison, took up the cause of prison reform.  Sister Eleanor and Sister Eileen Brady joined the growing No Nukes movement, as did Sisters Rose McMahon and Bea Desmarais.  Sisters Eileen and Eleanor were among those arrested at the top of a construction crane at the Seabrook nuclear plant in 1978.  Several members studied in Cuernavaca, Mexico in 1978 as what would become known as "liberation theology" was spreading through the Latin American church. 
Not all the Mercy nuns had the same convictions, so they agreed to form two groups, Region 1 and Region 2 (having nothing to do with where in the state they lived or worked). The activists were in Region 2.
By the 1980s, especially following the murder of four American nuns by right-wing death squads in El Salvador, the Region 2 Mercies plunged into the Central America solidarity movement and offered "sanctuary" to a Salvadoran man, his Guatemalan wife, and their three children at their house in Manchester. Others supported nuclear disarmament, a growing cause during the Reagan years. Like other actions – including Eileen Brady contributing a chapter to a book on "Lesbian Nuns" – their defiance of legal and ecclesiastical authority gained the disapproval of the state's dominant newspaper.
Putting their money where their mouths were, the Sisters of Mercy stepped up with the first loan to the NH Community Loan Fund to finance the state's first manufactured housing cooperative in 1984. The story goes on. Though their numbers are dwindling and the ages of the remaining members are climbing, the NH Sisters of Mercy are still showing up in movements to end the death penalty, provide affordable housing, liberate immigrants from prison, and insist that "Black Lives Matter."