"The Rebel Girl"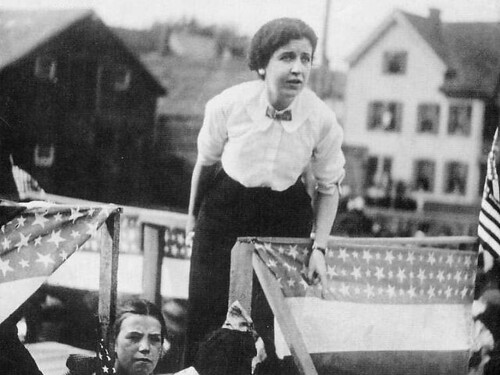 "Elizabeth Gurley Flynn-Paterson strike" by jimforest is licensed under CC BY-NC-ND 2.0
"Is it not much better to even die fighting for something than to have lived an uneventful life, never gotten anything and leaving conditions the same or worse than they were and to have future generations go through the same misery and poverty and degradation? The only people whose names are recorded in history are those who did something. The peaceful and indifferent are forgotten; they never new the fighting joy of living."

Elizabeth Gurley Flynn, from a 1917 speech
Elizabeth Gurley Flynn
Elizabeth Gurley Flynn was born in Concord on August 7, 1890 to radical parents Annie Gurley, a seamstress, and Thomas Flynn, a quarry worker, who were living at 12 Montgomery Street. In 1895 they moved to Manchester, where Thomas was hired as a civil engineer. By 1900, they were living in New York City, and by 1905, when she was 15 years old, Elizabeth Gurley Flynn had gained a reputation as a public speaker and radical agitator.
She joined the Industrial Workers of the World in 1907 and established a national reputation based on public speaking tours that took her to the sites of strikes and organizing drives throughout the country, including IWW free speech campaigns in Missoula and Spokane and textile strikes in Lawrence and Paterson. Criss-crossing the country, "Gurley" as she was often called, used her prodigious energy and oratorical skills to raise awareness and raise money in support of strikers and jailed unionists. She was arrested multiple times, but never convicted of anything until she was over 60.
As a campaigner for free speech and women's equality, Flynn was among the founders of the American Civil Liberties Union at the time of the Palmer Raids. She also formed to Workers Defense Union to support labor activists, especially immigrants, who were targeted for repression in the first U.S. "Red Scare." Flynn also campaigned actively for women's rights, especially access to birth control.
She joined the Communist Party in 1936 and was charged under the Smith Act in 1951, leading to a two-year prison term. She died in Moscow in 1964.
Elizabeth Gurley Flynn's life has been extensively documented, celebrated, and featured in literature and song. She wrote two memoirs, The Rebel Girl: An Autobiography, My First Life, and The Alderson Story: My Life as a Political Prisoner. She has been the subject of biographies, Words on Fire: The Life and Writing of Elizabeth Gurley Flynn, by Rosalyn Fraad Baxandall (Rutgers University Press, 1987) and Iron In Her Soul: Elizabeth Gurley Flynn and the American Left, by Helen C. Camp (Washington State University Press, 1995).
She corresponded with IWW song-writer Joe Hill during his imprisonment. In a letter to her shortly before his execution, he said she was the inspiration for his song, "Rebel Girl."
An official NH Roadside Historical Marker was dedicated near her birthplace on May 1, 2023.  The marker quickly became a subject of controversy, not unlike the plaque honoring New Hampshire veterans of the Abraham Lincoln Brigades.  Two weeks later, on orders from Governor Chris Sununu, the marker was removed, an act which touched off more discussion about the Rebel Girl.  
Read blog post on the historical marker.
Dr. Willard Uphaus was one of the speakers at Elizabeth Gurley Flynn's memorial service in New York.